De winter is bijna hier en we zijn super enthousiast om je kennis te laten maken met onze nieuwste, speciale samenwerking: We Are Knitters x Anthropologie. We zijn altijd al grote fans geweest van dit prachtige Amerikaanse merk. Ze verrassen ons keer op keer met hun onverwachte en onderscheidende ontwerpen voor in onze kledingkast en ons huis, dus om met hen samen te mogen werken is als een droom die uitgekomen is.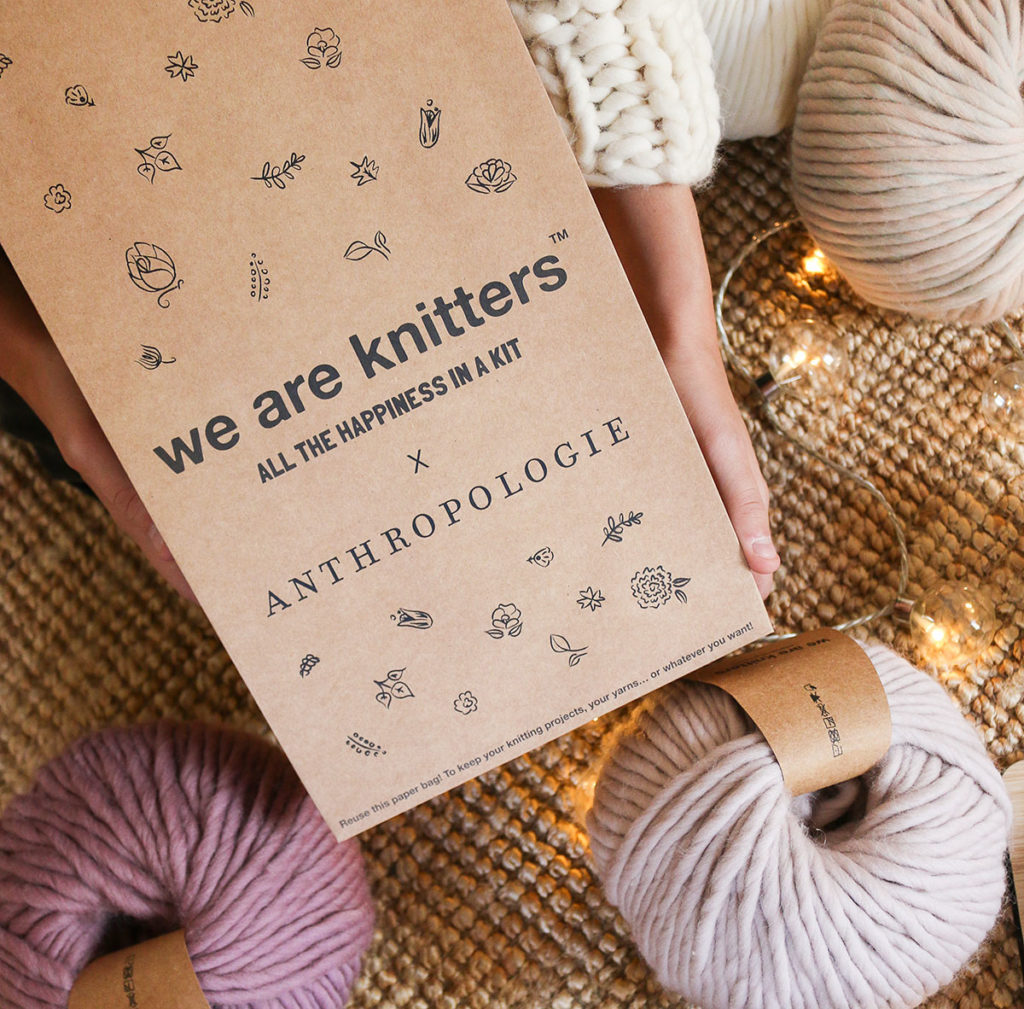 WAK x Anthropologie is de perfecte mix en match tussen fashion, lifestyle en dat gezellige en warme gevoel waar we allemaal naar zoeken tijdens de koudste maanden van het jaar. Het resultaat is vier verschillende co-branded kits om je Winter benodigdheden te kunnen breien: twee mutsen, een sjaal en een kolsjaal om gebreid te worden met ons grote chunky garen. Iedereen kan ze maken aangezien het beginner en makkelijk niveau pakketten zijn. Jep, het zijn de perfecte kerstcadeautjes.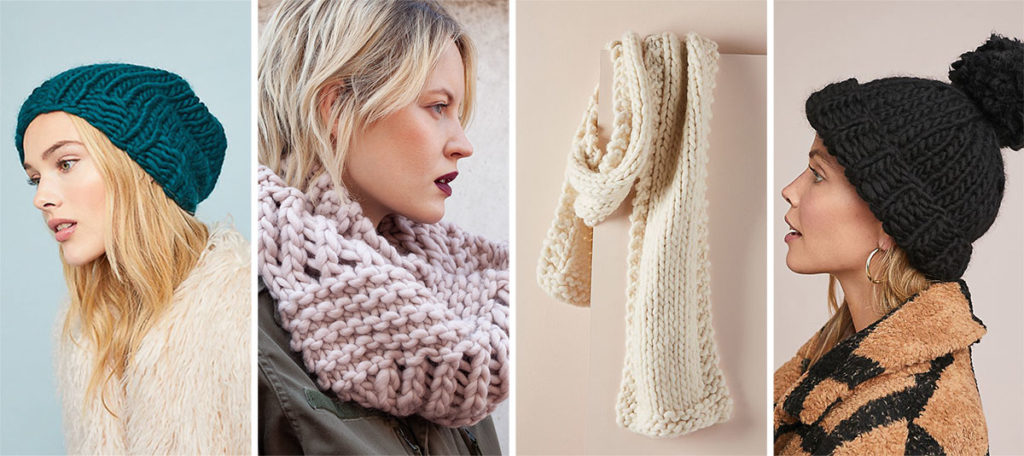 De vier breiprojecten zitten in een speciale We Are Knitters x Anthropologie zak, die de samenwerking de perfecte easy-cool & boho-chic touch geven die Anthropologie zo bijzonder maakt.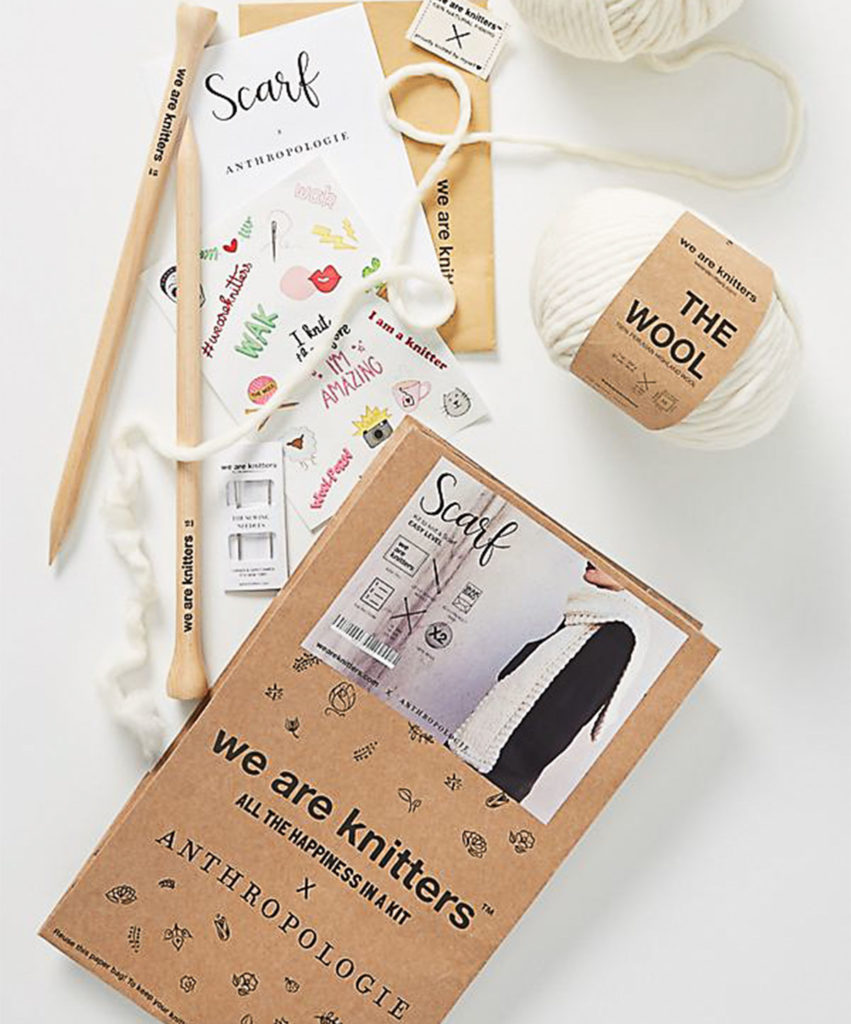 De vier kits zijn er in beperkte oplage en zullen alleen te koop zijn via Anthropologie. De vier pakketten zijn ook verkrijgbaar in de volgende winkels in de VS:
WAYNE, PA (NA)
BETHESDA (NA)
BEDFORD SQ, WESTPORT (NA)
NEWPORT BEACH, CA (NA)
SANTA MONICA, CA (NA)
CHICAGO AVE (NA)
BEVERLY HILLS, CA (NA)
SEATTLE,WA- U VILLAGE (NA)
BOSTON, MA NEWBURY (NA)
CHESTNUT HILL, MA (NA)
16TH & 5TH, NYC (NA)
ATLANTA, GA-LENOX SQU (NA)
PHILADELPHIA, PA (NA)
SEATTLE, WA-FIFTH AVE (NA)
SAN FRANCISCO, CA (NA)
CINCINNATI, OH (NA)
HOUSTON,TX-HIGHLND VG (NA)
THE GROVE, L.A., CA (NA)
PALO ALTO, CA (NA)
SAN JOSE, CA (NA)
DENVER, CO-CHERRY CRK (NA)
RICHMOND, VA (NA)
DALLAS,TX – NORTHPARK (NA)
DALLAS,TX-HIGHLAND PK (NA)
CHARLOTTE,NC SOUTHPRK (NA)
LONE TREE,CO-PARK MDW (NA)
PORTLAND, OR (NA)
SHORT HILLS, NJ (NA)
WASH, DC – GEORGETOWN (NA)
CARLSBAD, CA (NA)
SHREWSBURY, NJ (NA)
NASHVILLE, TN (NA)
INDIANAPOLIS, IN KYSN (NA)
TROY, MI (NA)
NYC – ROCKEFELLER CTR (NA)
CORTE MADERA, CA (NA)
AUSTIN, TX (NA)
BURLINGTON, MA MALL (NA)
GLENDALE CA AMERICANA (NA)
ROSEVILLE CA FOUNTAIN (NA)
SAN DIEGO FASHION VLY (NA)
DURHAM, NC SOUTHPOINT (NA)
TORONTO,ON YORKVILLE (NA)
NY, NY CHELSEA MKT (NA)
NYC, 3RD AVE AT 71 ST (NA)
WALNUT CREEK DIABLO (NA)
COSTA MESA S.COAST PL (NA)
KING OF PRUSSIA (NA)
BROADWAY AT FULTON (NA)
CENTURY CITY, CA (NA)
Onze Europese vrienden kunnen terecht in de Anthropologie winkel in Londen ( Regent St.) en in Düsseldorf (Königsallee ).